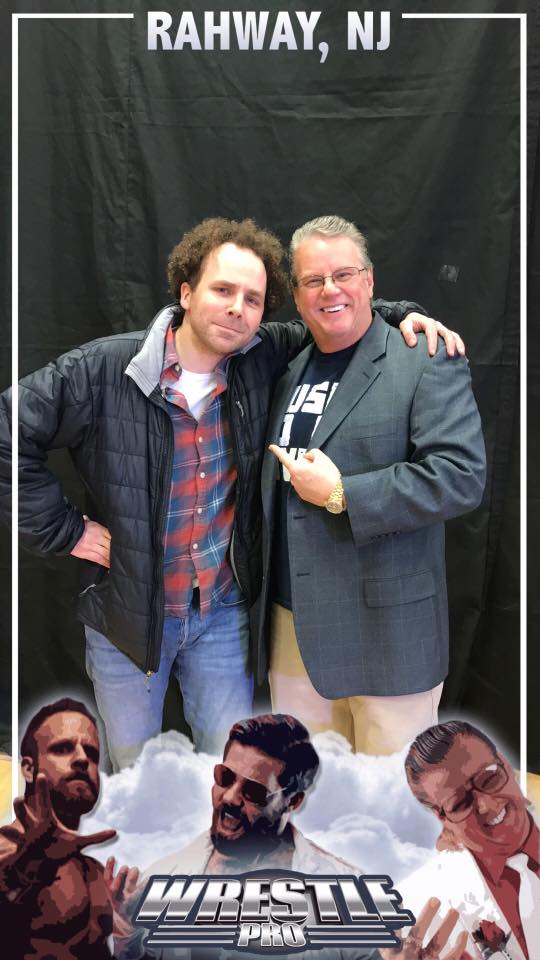 WrestlePro was set to make its return to the Rahway Rec center after a huge successful jam packed weekend in February. Coincidentally WrestlePro was celebrating it's one year anniversary from the very first event which happened in this same building. This must have been no surprise because walking around the arena and backstage area was Sirius XM's Sam Roberts looking for his ring gear. (If you joined us last year, you would know that Sam Roberts was a surprise entrant in the huge "On The Spot Title Shot" Battle Royal in which he choke slammed Nikos Rikos out of his boots; he still has not forgotten or gotten over this).
Special Pre Show:
Dave D-Struction came out to the ring to hype up the already excited Rahway crowd. He went on to touch on a few big matches coming up later on in the evening but was there to ring announce the special pre show match!
Pre Show Match: Valerio Lamorte w/Kasey Catal vs Talon
The last time we saw Talon, he, and his army of fans in Brooklyn made enough noise you can hear from any of the bridges. He was very impressive with his victory over Alex Reynolds. And previously, the last time we saw Valerio he and his Apple Corps teammate Maxwell Jacob Feinstein scored a pinfall victory at the Starland Ballroom so both men were coming off of "W"s. Early going; with the crowd behind him, Talon went shot for shot with Valerio to the disgust of one Kasey Catal on the outside of the ring. Both men, once again proved they can go and had the crowd well into this one to set the tone for the remainder of the night. But in the end, it was proven that the home field advantage was not needed and Talon hit a devastating fisherman neck breaker for the 1-2-3.
Your Winner: Talon
Before our first match of the night. Our special guest Bruce Prichard came out to greet the Rahway crowd. He went on to say that there is a huge amount of hungry and young talent in the back and he was going to stay for the entire show to scout, help, and give constructive advice to all.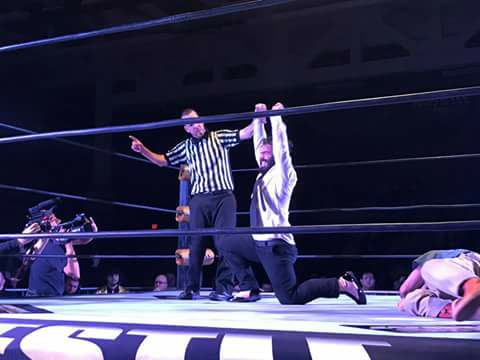 Match 1: CPA vs Habib (Match 5 of Best of 5 Series, Series tied 2-2)
When you think of the most iconic memories in sports history, 9 times out of 10 it's a "Game 7" feel. It's do or die, win or go home (Or back to the locker room). The crowd knew the importance of this match so they were screaming their heads off for both CPA & Habib. In the early going you can tell both were trying to get the early victory. At one point, we were all convinced that Habib had the easy count out win after hitting CPA with "Habib's Knees" to the hard outside floor! He, however, did the noble thing and rolled CPA back into the ring and refused to win this way. This, may have backfired on Habib as after CPA was able to regain some momentum hit a Canadian Destroyer with some TAX on it! He's calling it the "Wall Street Destroyer" and it was able to score CPA the win of the match, and ultimately the win of this long hard fought 5 match series!
Winner of the Series: The Tax man from Tax Land, CPA!

After the match: ⅔ of the Apple Corps (Leader Matt Macintosh) along with recently victorious Valerio Lamorte came out with a microphone in hand. Macintosh went on to continually express his hate for the "gimmicks" in pro wrestling and called it a disgrace. He told CPA and Habib to leave "HIS RING". Before they can even walk out they were attacked by the Corps from behind. Before we knew it, the familiar tune hit the Rahway crowd and out came SHARKBOY for the save! He came in there like a house of fire and hit the "CHUMMER" (Stunner) on Valerio to send him reeling leading us into our next match!

Match 2: Matt Macintosh vs Sharkboy
Matt Macintosh, already furious from the previous events took quick advantage of our newest debuted wrestler for WrestlePro. It went back and forth for a little while but like I've repeated time and time again, Matt Macintosh is our first WrestlePro champion for a reason. Every time he's out there he puts on a wrestling clinic. Sharkboy held his own though despite a match where his one leg was worked on throughout by Mac. In the end of this one, with the help and distraction of a bitter recently "CHUMMED" Valerio Lamorte on the outside, Macintosh was able to hit a low blow behind the referee's back and small packaged Sharkboy for the sneaky and slick 1-2-3!
Your Winner: Matt Macintosh
Match 3: Dirty & Durable (Blake and Donovan) vs The Taboo Crew (Steele & Jenkins) w/ Vanity/ Gino Gotz
Dirty and Durable, coming off their previous two match split vs Fallah & Sonjay Dutt were looking to make an impact in Rahway to attempt to skyrocket themselves up the tag team division ranks but in their way were the first ever WrestlePro Tag Team Champions, everyone's favorite gang, The Taboo Crew. Like he seems to do every match, Micah Jenkins started off lightning quick and had the experience vets on the ropes early before they knew what can hit them! Eventually however, the ring generals of Blake and Donovan took over and singled out the smaller of the Crew, Jenkins. Steele on the outside was losing all patience because Dirty & Durable were being just that. Dirty.. And Durable as it looked like they had the match in hand. Towards the end of the match it seemed like frustration was setting in on both teams as all 4 members of respective teams were in the ring in an all out brawl, eventually leading to Blake trying to use Craig's T-Shirt Gun as a weapon while the referee was distracted. This lead Vanity to get into the ring and snatch it before he can use it and Blake shoved her down! When Blake turned around he found himself on the receiving end of the "Deal Breaker" for the Taboo Crew to score the victory!
Your Winners: The Taboo Crew!
Match 4: Craven Varro vs Chris Payne w/ Shining Edward Jackson
We thought we may have seen the last of Craven in Brooklyn as he was on the receiving end of a brutal assault by Dan Maff. Payne on the other hand was coming off his own 0 for 2 weekend last time out with loses to both Delroy Alexander and Mario Bokara at Starland and Brooklyn. One thing we have noticed is a side of aggression in Payne so you tack on that, with 2 loses in a row, we have a very "Pissed off Payne" here. The frustration showed immediately. There were legit 2 times that Payne took the referee to a 4 count while mounting Craven and dropping bombs right to Craven's face. Craven, much like vs Danny Maff, showed no signs of giving up. Everything that Payne through at him he took and responded with some electric offense of his own. Time and time again we have to give credit where it's due and something about Craven's ability to withstand pain (No pun) and take a beating and never seem to give out without swinging his lethal legs and feet. But in the end, the numbers game finally caught up to Craven as the tiniest of distractions by Edward Jackson on the outside gave Payne the window he needed to hit his "PCB" (The Payne and Consequence Bomb) for the pinfall victory!
Your Winner: Chris Payne w/ Shining Edward Jackson
Match 5: Fallah Bahh vs Nikos Rikos w/ Nikki & Coach D vs Buster Jackson w/ Shining Edward Jackson
Shining Edward Jackson basically just had to walk Payne backstage and then grabbed his nephew Buster to compete in this next contest. Fallah Bahh coming off some recent tag team matches knew that the strategy of one Nikos Rikos and Buster Jackson were to double team the Panda man to try and even up the odds. They did just that. Early on Rikos and Jackson worked to take the big man out but before knew it, their quick friendship came to an end when it came to who was going to score the pinfall victory. Fallah took advantage of this said miscommunication and wound up gaining steam and momentum heading into the closing moments of this match which was a HUGE Bonsai splash for the victory.
Your Winner: Fallah Bahh

After The match: Which seems to be a monthly trend now.. Coach D found himself by himself as Nikki was walking Nikos Rikos to the back after suffering the loss. How does this keep happening? Do they not notice the 60+ year old man at the end of matches? Nevertheless Fallah Bahh hit a huge samoan drop on the coach and then dragged his lifeless body to the corner and hit yet another Bonsai splash! If Coach D has 9 Lives, He just got all of them squashed out of him.
Match 6: Alex Reynolds vs Delroy Alexander
Much like previous mentioned WrestlePro stars, Both Delroy and Alex Reynolds had busy weekends in February. Alex was coming off a huge triple threat win over Joey Janela, and Matt Macintosh but suffered a loss at the hands of Talon in Brooklyn behind his army of fans. Delroy on the other hand was coming off of 2 huge victories over Chris Payne and Buster Jackson. Delroy was done with the "morale victories" and had his sights set on the season vet. Early on in the match we discovered that it was a FULL MOON in Rahway! Alex's backside was exposed for about 30 seconds which had the Rahway crowd laughing but Delroy did not lose focus for a second. Delroy took the early advantage but the tide quickly turned. Alex is so smart in that ring and he can change the pace and the momentum of any match like that! (Snaps fingers). Towards the end of this one as Delroy was starting to rally up, Alex hit a blatant low blow right behind the referee's back to steal this one. By hook or by crook, Alex picks up another win for us at WrestlePro.
Your Winner: Alex Reynolds
Match 7: WrestlePro Championship Ladder Match: Anthony Bowens © vs Bobby Wayward
The most highly anticipated match of the night was here. The rivalry has been now at its all time high in anger, frustration and hate. Bobby Wayward has lost sleep for the past month with the recent loss of his title and we (and the fans) knew that Wayward was going to pull out all the stops in this one. Early on, Anthony Bowens looked to be having a little fun with Wayward. He had him on the outside of the ring delivering chop after chop at the guard rails and let the WrestlePro fans HOLD Bobby in place! Nothing fires up a crowd more than being involved in a match, let alone a title match, and for better measure, a title match involving WrestlePro's most hated star. This match had everything. Wayward, which is no stranger to high risk matches, had Bowens reeling for quite some time in this match. This match had it all. Both men used the ladder as a weapon. Bobby had even constructed his own bridge with two ladders! Bowens and Bobby were literally giving it everything they had in this one. No writing will do this match justice as we easily saw an early candidate for "Match of the Year". When the time was right, we heard that annoying theme song blare over the PA system, "ALERT! ALERT! JOB SECURITY! ALERT!" and here came all 4 members of Wayward's personal security team to cause some distraction. Bowens and Wayward then both made their way to the very top of the ladder to reach for the belt simultaneously the belt seemed to have been lodged. They literally fought over positioning for a good minute and eventually BOTH fell to the floor and the belt went flying! With the belt being on the mat, both men slowly crawled to it. They BOTH jumped on it at the same time! There was a legit tug-of-war for the WrestlePro Championship! JOB Security each went into the ring one after another to try and take Bowens off his grip of the belt but Bowens fought them all off! Then, Chris Avery Queling came into play knocked Bobby by accident but sending BOTH men to the mat again! Chris Avery Queling now is the only man standing inside the ring. Wayward down. Bowens down. CAQ is the man in complete control to decide the fate of the title match. After literally fighting himself a few times, Chris Avery Queling walked over to Bobby Wayward and literally (Not even figuratively), handed Bobby his second ever WrestlePro Championship!
Your Winner: AND NEW! WrestlePro Champion! Bobby Wayward
Match 8: Sensational Six Way Match: Ken Dixon vs Chris Steeler vs Johnny Clash vs Hush vs Max Caster vs Hot Dog Starkes
These matches are always fun, intense, and fast! We welcomed in MCW's Ken Dixon as apart of this match (Ken was recently in a talent exchange trade between WrestlePro and MCW). He brought the intensity right away. There was a lot of grit out of this kid. Chris Steeler continues to impress me with his ring awareness and smooth delivery of every move. His superkick is deadly and when it lands, it lands flush and hard. Hush is always battling. It still blows me away that a man who cannot hear is so effective in the ring and makes everything look easy. Oh, and much like his previous 438 attempts, Johnny Clash announced that if he did NOT pick up the victory in this 6-person match, he would then file for retirement, again. Tell me a Lie Clash, Say that you won't go. Max Caster who is previously known for being a former Create-a-Pro New York Champion also had some bright spots in this match. He's definitely equipped with a lot of innovative offense. One of the highlights of this highlight filled match was the emergence of a New Jersey debut of Hot Dog Starkes. The crowd ate him up (Not literally). They were all anticipating him to hit the Hot Dog Bunner much like he did in Brooklyn. But in the end of this 100 mph match, Ken Dixon shocked us all and stole the victory and will head back to MCW with a win at WrestlePro.
Your Winner: MCW's Ken Dixon
Match 9: Beefcake Charlie vs Joey Ryan
And the winner for most awkward match of the night goes to… yep, these guys. I mean it's no secret that Joey Ryan is the "King of Dong Style" for a reason and Beefcake Charlie may have the mentality that he's in phenomenal shape with the ring gear he wears (I've never seen so much spandex in my life). "This is Awkward!" chats broke out in Rahway as both guys were feeling themselves out but not making many moves other than oiling up, eating lollipops and playing to the crowd. In the end of this one we saw it get taken to a whole new level. Joey Ryan went under the ring and grabbed a black bag. We did not have a clue as to what was inside. Could it be nails? Thumbtacks?.... No, It was a bag full of devastating and brutal lollipops! Beefcake found himself missing a HUGE second rope moonsault and costing him this match. Joey Ryan scores the very odd victory. 1-2-3.
Your Winner: Joey Ryan

After the match, Both men shook hands out of respect for one another's "Style" and distributed lollipops to the Rahway Crowd.
Match 10: Tag Team Championship Gauntlet Match (2 Teams Star and when eliminated another team enters until the Final Team, The Champions)
The Beach Bums vs The Amazing Grayson's vs Massage NV vs Team Espana vs The Heavenly Bodies ©
This match was very fun to see and call. The Bums started off against the Amazing Graysons. Both of these teams are very young but catching on very quickly. TJ & Freddie IV started this one off as Brody sat in a beach chair on the outside of the ring rooting on his fellow bums. The Graysons just seem to get quicker and quicker. The Bums are gaining excellent experience in matches like these and were able to show off a few of their newest moves. One move that stood out in the early going of this one was the double atomic drop they pulled off and they're calling it "The Bum Drop!" which was very effective and the Bums quickly found themselves with a quicker victory in the first fall of the match. Outcome Dorian Graves and VSK, Massage Envy! However also, to my surprise, Brody entered this match and Freddy IV took a seat on the sidelines! Two fresh teams! And like they do all the time, they tried to use their patented massage moves on the Bums. TJ quickly realizing what was happening made a quick entry to the ring to throw VSK out of the ring. Then out of nowhere, TJ took Brody's own head and used it as a weapon and rammed it into Graves. They call that outlandish tag team move the Coconection and it was effective! But, the experience factor set in eventually and Massage NV was able to use their finishing maneuver which was a combo of a 3-D launch into a code breaker! 1-2-3, Bye bye Bums! Next was Team Espana (Without Coach D because he was sent packing earlier in the night). This seemed to have distracted the soccer boys. No Coach, No momentum and before you knew it, Team Espana was also on the receiving end of the same move that put away the Bums! 1-2-3! And just like that Massage NV was one more pinfall away from shocking Rahway and becoming new Tag Team Champions. Out came The reigning and defending champions along with their manager Shining Edward Jackson, the Heavenly Bodies! Before the Bodies could even get to the ring, Team Espana who just recently suffered a loss, did not go home quietly as they created an all out assault on NV. These guys deserve a red card. There was no structure with this team, just all out anger for their loss. The Bodies had the early advantage with Massage NV being already beaten up! But, nothing stopped Massage NV from fighting back and making this a match! Clearly after being in there for 2 falls and then on the receiving end of a brutal attack, the fatigue set in. The Bodies hit their finishing "Pearly Gates" on NV but to the shock of everyone in Rahway, kicked out!! The Bodies didn't waste any time setting them up for it again and connected once again. This time, the final blow. Shops closed boys. The Heavenly Bodies retain!
Your Winners: AND STILL… WrestlePro Tag Team Champions.. The Heavenly Bodies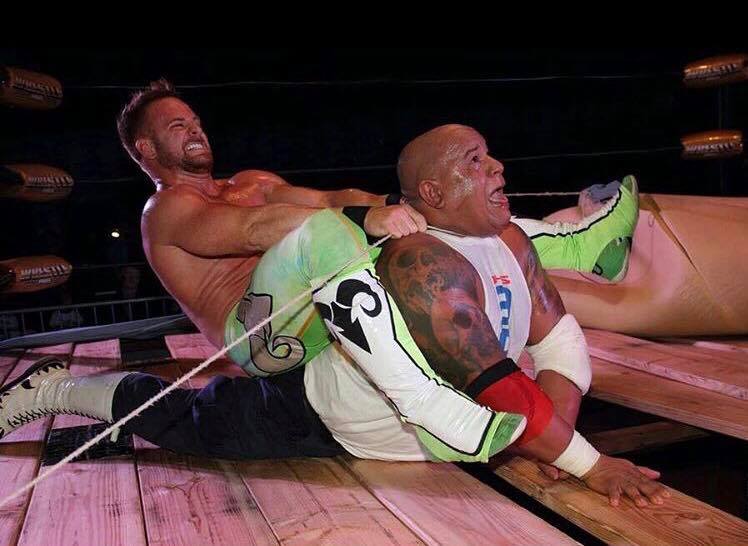 Match 10: MAIN EVENT! Pat Buck & Kevin Matthews & Mario Bokara vs DA HIT SQUAD (Maff and Monsta Mack) & Homicide
We've seen and had a lot of memorable moments in the first year at WrestlePro. From our debut show in March of 2016, to the invasion of Jeff Jarrett's Global Force Wrestling, to the epic battles with some of the best stars on the independent scene today. However; this match right here left the Rahway crowd in complete shock. Once again a match that the writing will do it no justice but I'll try anyways. Maff, Mack, and Homicide thought they had the very early advantage when it seemed like before this match, Maff had reached an agreement with Mario Bokara to JOIN the "Evil Family" !!? Mario shook hands with all 3 members and crossed the line that Maff had drawn leaving Kevin Matthews and Pat Buck confused and even more pissed off that they potentially have lost another cornerstone of the company. Out of left field, Mario Bokara pulled the ultimate fast one as he then came from behind Maff and delivered a HUGE German suplex sending the big man reeling and off to the races we went. Kevin & Homicide squared off first and took it to the crowd immediately! Maff and Bokara, once best of friends also took it to the other side of the arena! Pat Buck and Monsta Mack took their business inside the ring. At zero points of this match did the action stop. Maff through Bokara through a table on one side of the venue while Kevin & Homicide took their business to the bleachers in which we saw Homicide get thrown down and then Kevin followed up with a huge elbow drop! Maff made his way back into the ring to fight Pat as Bokara was taken out of the action briefly. This was all out mayhem! After about 15 minutes of bodies flying everywhere it seemed that the "Evil Family" had a plan all along. Not only were they going to try and eliminate the owner of the company and two cornerstones, but they were going to destroy the ringside area as well and use every dirty trick in the book to get the job done. At one point, a damn wrench was used as a weapon! Monsta Mack pulled out a blade and started cutting the ropes that were tied to the ring to keep the canvas on. Homicide was pealing back the protective 1-inch thick padding to the ring as well trying to expose just the wood and steel beams! Fighting back however were Buck, Matthews, and Bokara to interrupt the total destruction to the ring. At one point, Maff, Mario, and Buck were all stationed on the top ropes right out in front of us! At this point there was no more padding or canvas on the ring and all 3 men would come crashing down on the wood! The 300+ lb Maff hit those boards so hard he sprung up about 3 feet after impact! Like I stated before, no writing will do this justice. Just as Kevin had taken Homicide out, and Mario still fighting with Mack on the outside this left the matchup we've all been waiting for. Dan Maff and Pat Buck were face to face in what was left of the WrestlePro ring! Maff, who was still feeling the effects of the top rope superplex to the wood and steel stood there in Buck's face continuing to yell at Buck (with a wrench in his hand) and then eventually called Buck soft and SPIT in the owner's face! Buck then without hesitation leveled Dan Maff with the wrench sending him down to the wood/beams and exposed ring. Knowing this would NOT finish him off, Buck then grabbed some of the exposed rope from the canvas, mounted on Maff's back and wrapped it around his throat! Maff's face immediately turned bright red, then purple, and his eyes were starting to roll to the back of his head! Buck kept pulling harder and harder until Dan Maff became unconscious and the referee called for a stoppage!! Maff NEVER Tapped out, However, Buck, Matthews, and Bokara were victorious. The house lights came on there we saw a sight we've never seen. Dan Maff, Lifeless, buried under the utter destruction of a pro wrestling ring, his head hanging through the ring and remained motionless as the night ended.
Your Winners: Pat Buck, Kevin Matthews, and Mario Bokara
What a night we had in Rahway, New Jersey. WrestlePro went out with a complete bang headed into one of the biggest nights in the company's young history, WrestlePro at WrestleCon 2017 in Orlando, Florida. We Will see so much action including the return of Da Hit Squad as they take on The Heavenly Bodies for the WrestlePro Tag Team Titles. The victorious team of Buck, Matthews, and Bokara return to take on The b.W.o. (Stevie Richards, Nova, and Blue Meanie). Chris Payne takes on Tommy Dreamer. Swoggle takes on Grado! This and so much more! Click Here for all the details! See you in Orlando!